COVID-19 Impact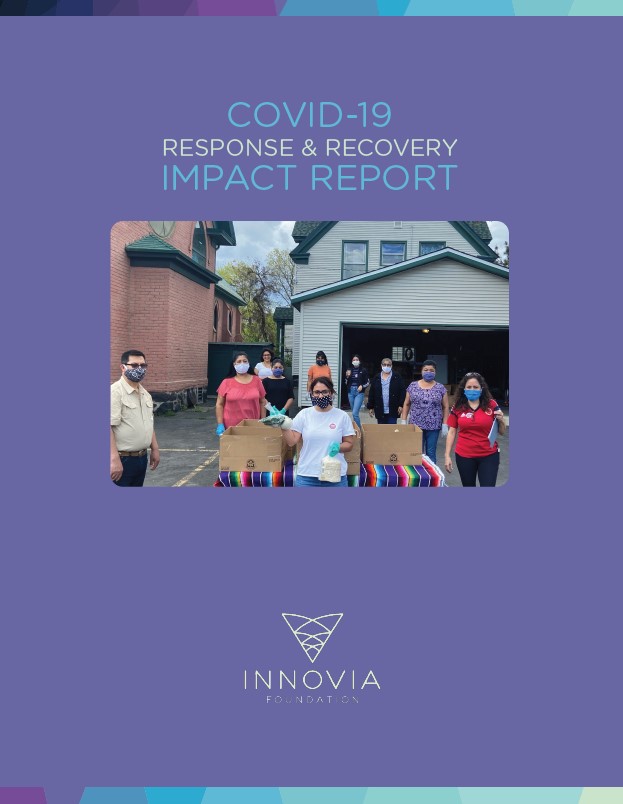 In responding to our region's most critical needs during the COVID-19 pandemic, Innovia Foundation – along with many other funding partners – distributed more than $35 million in COVID-19 Response and Recovery grants. This couldn't have happened without the significant efforts of each of our volunteers and partners! To see the full scope of Innovia's pandemic response, please read our newly produced COVID-19 Community Impact Report here.
ABOUT THE COVID-19 COMMUNITY RESPONSE AND RECOVERY FUNDS
Partners from philanthropy, government and business came together to create two COVID-19 Response and Recovery Funds that made grants to community-based organizations in Eastern Washington and North Idaho working on the frontlines to serve our region's most vulnerable populations during this outbreak. The funds were designed to complement the work of public health officials, medical providers, businesses and governments to expand regional capacity addressing the outbreak as effectively as possible.
ALL IN WA: Eastern Washington
Innovia Foundation and Eastern Washington funding partners joined the statewide coordinated effort, All In WA, a movement for giving back and stepping up to help those who had been acutely affected by the COVID-19 crisis.
All In WA issued a $25 million dollar matching gift challenge for the state. For every dollar raised, All In WA matched dollar for dollar, up to $1 million per unique donor. Community members donated locally to the Eastern Washington COVID-19 Response and Recovery Fund hosted at Innovia Foundation.
By the launch, Eastern Washington funders had committed over $275,000 towards the match. Initial donors that met the All in WA challenge for Eastern Washington include Avista Corporation, Washington Trust Bank, Numerica Credit Union and Cowles Company.
HOW WERE THE FUNDS DISTRIBUTED?
Grants administered in partnership with regional advisory councils consisted of funding partners and community representatives. Funds were released on a rolling basis as fundraising continued throughout the outbreak and recovery phases of the crisis, making it possible to move resources quickly and adapt to evolving needs. Grants were directed to nonprofit and grassroots organizations, as well as schools and other government agencies, that were on the front lines of the COVID-19 response and recovery work.  Please see the Discussion Framework for more information.
In partnership with over 100 regional advisory committee member volunteers, $779,000 was distributed to 138 organizations throughout Eastern Washington and North Idaho in the first round of grantmaking in April.  In June, a second round of grants awarded $746,012 in funding to 165 organizations.
Combined with Round 3, a total of $2,912,312 in grants was awarded to Eastern Washington and North Idaho.
VOLUNTEER OPPORTUNITIES:
Many have asked for opportunities to support their community through volunteer opportunities. Click here to access Volunteer Spokane, led by Spokane County United Way, to review opportunities.
ADDITIONAL RESOURCES:
Regional COVID-19 Response: Spokane County
Regional COVID-19 Response: Kootenai County
Coronavirus Nonprofit Risk Management Resources
Idaho: Official Resources for the Novel Coronavirus
Sandpoint magazine has redeployed their website as a landing page to provide information and resources for North Idaho
Idaho Nonprofit Center: Webinars for nonprofit sector
FUND PARTNERS
The COVID-19 Community Response and Recovery Funds are anchored by donations from funders including Innovia Foundation, Empire Health Foundation, Spokane County United Way, Avista Foundation, Ballmer Group, Bank of America, BECU, Better Health Together, Bill & Melinda Gates Foundation Burlington Northern, Blue Cross of Idaho Foundation, Columbia Bank, Community Building Foundation, Delta Dental of Washington, Equinox Foundation, Health Sciences & Services Authority of Spokane County, Itron, Lewis-Clark Valley Healthcare Foundation, MultiCare Health System, M.J. Murdock Charitable Foundation, Mountain West Bank, Perigee Fund, PotlatchDeltic Corporation, Premera Blue Cross, Providence Health Care,  STCU, Umpqua Bank, Wells Fargo and Women Helping Women Fund.
Thank you for your work every day to support our region. Together we will continue to get through this challenging time.