Innovia Foundation today announced 165 grants totaling $746,012 from the COVID-19 Community Response and Recovery Funds for Eastern Washington and North Idaho.
This is the second round of grants from the Response and Recovery Funds and is directed to nonprofit and grassroots organizations, as well as tribal entities, schools and other government agencies, that are on the front lines of the COVID-19 response and recovery efforts. Grants focused on childcare and youth, food assistance needs, support for immigrant and refugee communities, mental health resources and small business support.
The COVID-19 Response and Recovery Funds are hosted at Innovia Foundation in partnership with Empire Health Foundation and Spokane County United Way in Eastern Washington, and Equinox Foundation and Avista Foundation in North Idaho.
Grants from the COVID-19 Community Response and Recovery Funds are administered in partnership with regional community advisory groups consisting of residents and leaders from health, business, education and human services sectors. Thanks to the generosity of local, regional and national funding partners, the funds for Eastern Washington and North Idaho have surpassed $2.7 million.
Businesses, individuals and organizations can donate and find additional information about the COVID-19 Community Response and Recovery Funds for Eastern Washington and North Idaho at innovia.org/COVID19.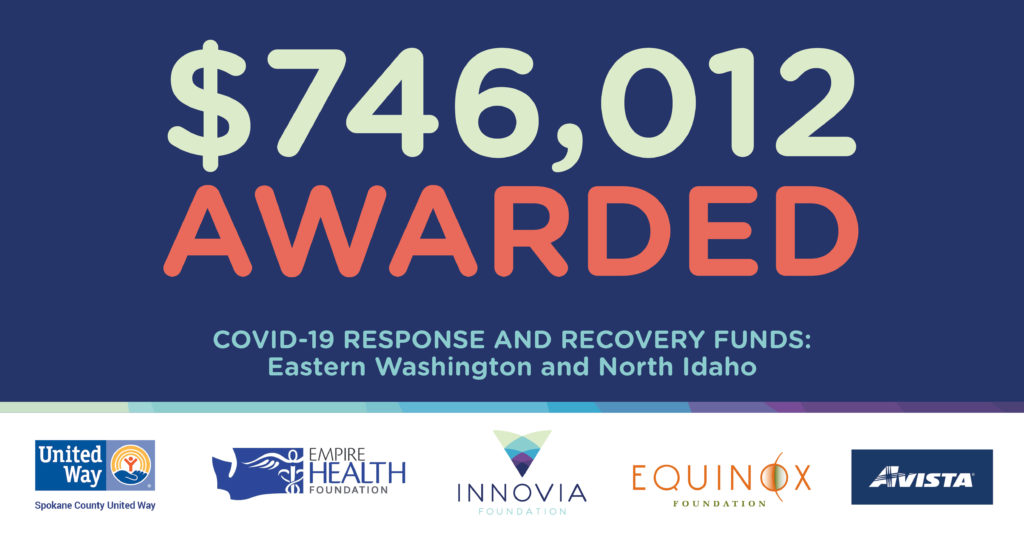 Establishing Partners:
"The amount of money raised because of the generosity of our community is inspiring. The ability to distribute dollars quickly to nonprofits in our community that are working daily to support families during these difficult times is a priority for Innovia Foundation, Empire Health Foundation and United Way," said Spokane County United Way President and CEO Tim Henkel. "We all know there is more work to do to support the most marginalized and low-income members of our community who are adversely affected by this outbreak and we will continue to partner to strengthen people's ability to respond and recover."
"As the COVID-19 pandemic continues, we remain very concerned about ongoing health and financial impacts, particularly among communities of color. Our second-round funding priorities are largely focused on organizations serving adults and children in these communities, where deep disparities remain," said Empire Health Foundation Interim President Jeff Bell. "I want to thank the Spokane County COVID-19 Advisory Committee and funders' staff for the tremendous work in making difficult and thoughtful decisions."
"These funds are helping to address the urgent, basic needs that have surfaced during the COVID-19 global pandemic and Better Health Together is glad to contribute. We see this as a starting point for community collaboration," said Better Health Together Executive Director Alison Poulsen. "We challenge funders and leaders to address systemic racism that exacerbates health inequities in our communities of color."
"The second round of COVID-19 grants continues to address the most urgent needs in our region and supports organizations doing the work on the ground," said Innovia Foundation CEO Shelly O'Quinn. "As our region enters into the recovery phase, we are reminded of the strength of community and collaboration as we collectively make these grants thoughtfully and strategically with over 100 regional volunteers and trusted voices."
"Equinox Foundation is proud to be part of this collaborative effort," said Equinox Foundation Board President Julie Meyer. "The partners and funders involved recognize that we can have greater impact by working together and are committed to assisting the most marginalized and vulnerable members of our community who are adversely affected by this outbreak."
"This crisis has further exposed and deepened the economic and health inequities in our region. Our funding partners recognize this reality and have prioritized many of these funds to support organizations that are trusted in their communities to address the needs of our most vulnerable citizens," said Todd Kiesbuy, Avista's Regional Business Manager for North Idaho. "These resources will be directed to the people who need it most. The level of cooperation and communication among the funders is truly remarkable and Avista is honored to be part of this effort."
COVID-19 Response and Recovery Funding partners: Innovia Foundation, Empire Health Foundation, Spokane County United Way, Avista Foundation, Ballmer Group, Bank of America, BECU, Better Health Together, Bill and Melinda Gates Foundation, Burlington Northern, Blue Cross of Idaho Foundation, Columbia Bank, Community Building Foundation, Cowles Company, Delta Dental of Washington, Equinox Foundation, Health Sciences & Services Authority of Spokane County, Itron, Lewis-Clark Valley Healthcare Foundation, MultiCare Health System, M.J. Murdock Charitable Foundation, Mountain West Bank, Numerica Credit Union, Perigee Fund, PotlatchDeltic Corporation, Premera Blue Cross, Providence Health Care, STCU, Umpqua Bank, Washington Trust Bank, Wells Fargo and Women Helping Women Fund, and dozens of generous individual donors from our communities.
Grant Awards:
Council Region
Amount
Organization
Program Name
City
State
1
$1,500
Chewelah Chamber of Commerce
to support local businesses by supplying them with PPE
Chewelah
Washington
1
$2,000
Chewelah Faith Resources Group
to increase delivery of food to the local community
Chewelah
Washington
1
$10,000
Colville Now c/o Colville Chamber of Commerce
to support local economic resilience for local businesses
Colville
Washington
1
$900
Colville Seventh-day Adventist Church
to support food distribution to members of the Colville community
Colville
Washington
1
$4,000
Colville Together
to support local businesses by providing a locally based online platform
Colville
Washington
1
$20,000
Confederated Tribes of the Colville Reservation
to provide COVID-19 relief and recovery
Colville
Washington
1
$2,000
Confederated Tribes of the Colville Reservation
to provide remote learning resources for students of the Colville Tribe
Nespelem
Washington
1
$500
Emergency Food Bank of Ione
to provide non-perishable food items and produce to elderly and low-income families residing in North Pend Oreille County
Ione
Washington
1
$1,000
Farm to Food Pantry
to cover costs of transporting food to communities throughout the Tri-County area impacted by COVID-19
Colville
Washington
1
$2,850
Ferry County Search And Rescue-CERT
to provide volunteers with PPE and emergency response materials
Republic
Washington
1
$1,500
Friends of Stonerose Fossils
to provide personal protective equipment and other safety-related items necessary to provide educational opportunities during the summer
Republic
Washington
1
$2,000
Hospitality House Council on Aging
to provide food vouchers for customers of the Hospitality House
Newport
Washington
1
$20,000
Kalispel Tribe of Indians
to provide COVID-19 relief and recovery
Usk
Washington
1
$1,000
Kalispel Tribe of Indians
to re-stock the Kalispel Kupboard food bank
Usk
Washington
1
$13,240
Mary Walker School District 207
for a refrigerated trailer to continue delivery of meals throughout the community and to support ongoing mental health counseling for students
Springdale
Washington
1
$5,000
NEW Health Programs Association
to provide PPE for staff and patients
Chewelah
Washington
1
$8,000
Newport Hospital and Health Services Foundation
to support communication infrastructure for residents to remotely connect with families and primary care providers
Newport
Washington
1
$1,000
Northport Food Bank
to provide non-perishable and nutritional produce to members of the Northport, Onion Creek, Flat Creek and Deep Lake communities
Northport
Washington
1
$5,000
Pend Oreille Paramedics
to provide COVID testing kits for their remote paramedicine services
Newport
Washington
1
$1,000
Providence Northeast Washington Hunger Coalition
to cover costs associated with distribution of food to 15 member pantries in the Tri-County area
Colville
Washington
1
$5,060
Public Libraries in Eastern Washington
to provide personal protective equipment for Stevens and Pend Oreille libraries
Loon Lake
Washington
1
$1,000
Republic Eagles Auxiliary #68 – Food Is Love Fund
to provide nutritious food to the residents of Ferry County
Republic
Washington
1
$2,000
Selkirk School District
to support remote learning opportunities for students
Metaline Falls
Washington
1
$2,000
Town of Cusick
to provide addition of sanitary equipment, services and education to town of Cusick
Cusick
Washington
1
$5,000
Tri County Community Health Fund
to provide supplies, personal protective equipment, testing and other resources to the homeless population
Colville
Washington
2
$5,000
American Indian Community Center
to provide basic needs and PPE
Spokane
Washington
2
$4,000
Camp Fire Inland Northwest
to assist with increased costs associated with safely operating summer camp
Spokane Valley
Washington
2
$20,000
Carl Maxey Center
to create a part-time, temporary community support position to assist African American business owners to identify and access resources.
Spokane
Washington
2
$2,000
Cheney Food Bank
to provide food support
Cheney
Washington
2
$2,000
Colbert Presbyterian Church
to provide food support
Colbert
Washington
2
$3,000
College Success Foundation – Spokane
to provide assistance to youth and families to meet basic needs, including food, housing assistance, testing fees and college deposits
Spokane
Washington
2
$7,637
Community Health Association of Spokane (dba, CHAS Health)
to provide air purification at Market Street Clinic to provide safe environment
Spokane
Washington
2
$20,000
Community-Minded Enterprises
to create a fund to provide assistance to child care organizations
Spokane
Washington
2
$2,500
Compassionate Addiction Treatment
to provide food and medical supplies to support those who are homeless and who need addiction treatment
Spokane
Washington
2
$1,000
Comunidad Cristiana de Spokane
to provide basic needs for families and individuals
Spokane Valley
Washington
2
$3,000
Cup of Cool Water
to ensure youth and young adults who are homeless in Spokane have access to food, clothing, showers, hygiene and personal care items, and laundry services while safeguarding their potential exposure to COVID-19
Spokane
Washington
2
$1,750
Darfur community group
to provide basic needs and PPE
Spokane
Washington
2
$10,000
Express School Age Child Care Programs – Spokane Public Schools
to provide free child care for first responders
Spokane
Washington
2
$5,000
Feast Collective (fiscally sponsored by Smith-Barbieri Progressive Fund)
to support staff time of head chef in order to serve more refugee families
Spokane
Washington
2
$2,000
Feed Medical Lake – ministry of St. John Lutheran Church
to provide food support
Medical Lake
Washington
2
$1,000
Find Solution Organization
to provide basic needs
Spokane
Washington
2
$5,000
Freeman School District #358
to provide access to technology via Chromebooks and services to support virtual learning
Spokane
Washington
2
$10,000
Gonzaga University- Center for Community Engagement
partnering with Sodexo, to provide meals to go in Stevens Elementary community.
Spokane
Washington
2
$4,000
Inland Northwest Council Boy Scouts of America 611
to assist with increased costs associated with safely operating summer camp
Spokane
Washington
2
$2,000
Inland Northwest Juneteenth Coalition
to meet basic needs of families
Airway Heights
Washington
2
$8,000
Joya Child & Family Development
to provide PPE and specialized equipment to meet immediate need for safe home visits
Spokane
Washington
2
$5,000
Latinos en Spokane
to distribute household cleaning supplies, hygiene products and PPE
Spokane
Washington
2
$3,000
Martin Luther King Jr. Family Outreach Center
to provide emergency childcare to children in need
Spokane
Washington
2
$5,000
Millwood Impact
to provide food for families in need, via 800 elementary food packs
Spokane valley
Washington
2
$7,500
Ministerial Fellowship of Spokane/ Morning Star Baptist Church
to provide support for individuals and families in need as a result of COVID-19 impacts
Spokane
Washington
2
$5,000
Multi-Ethnic Business Association – AHANA
to provide outreach to business owners to provide consultation, education and assistance in response to COVID-19 impacts
Spokane
Washington
2
$5,000
NAMI Spokane
to increase access to remote mental health care classes and support groups
Spokane
Washington
2
$1,000
New Life Hmong Alliance Church
to provide basic needs
Spokane
Washington
2
$1,250
Nigerian American Association Inland Northwest
to provide basic needs and PPE
Spokane
Washington
2
$10,000
Northeast Community Center
to provide PPE and other items to support public safety
Spokane
Washington
2
$2,500
Northwest Kenya association
to provide basic needs
Spokane
Washington
2
$5,000
Odyssey Youth Movement
to support online connections with vulnerable populations and basic needs support
Spokane
Washington
2
$7,500
Pilgrim Slavic Baptist MB church
to provide support for individuals and families in need as a result of COVID-19 impacts
Spokane
Washington
2
$5,000
Planned Parenthood of Greater Washington and North Idaho (PPGWNI)
to provide basic need items and assist Latinx individuals with interpretation access to other community resources
Spokane
Washington
2
$5,000
Refugee Connections Spokane
to provide outreach to Marshallese community, which is experiencing hotspot COVID-19 outbreak
Spokane
Washington
2
$5,000
Salem Arms Community Housing
to help with rental assistance
Spokane
Washington
2
$1,500
SAN – Spokane AIDS Network
to provide fresh, healthy food
Spokane
Washington
2
$5,000
Solace
to provide enhancement to app that will increase access to relevant information for the transgender community
Spokane
Washington
2
$1,500
South Sudanese Community in Spokane
to provide basic needs and PPE
Spokane
Washington
2
$3,000
Spark Central
to provide access to education programs for youth in the West Central neighborhood
Spokane
Washington
2
$5,000
Spectrum
to provide funding for an LGBTQ Community Health Worker
Spokane
Washington
2
$2,000
Spokane Area Jewish Family Services
to meet basic needs of individuals and families
Spokane
Washington
2
$2,500
Spokane Eastside Reunion Association (SERA)
to provide restaurant job training for youth
Spokane
Washington
2
$5,000
Spokane Karen Baptist Church
to provide basic needs
Spokane
Washington
2
$20,000
Spokane Tribe of Indians
to provide COVID-19 relief and recovery
2
$7,500
Spokane Valley Partners
to provide support for individuals and families in need as a result of COVID-19 impacts
Spokane Valley
Washington
2
$10,000
Stand Washington
to provide mental health and SEL supports, as well as a stronger focus on ESL parents and families. Workshops will be provided in Marshallese, Spanish and Russian, and a student-led listening session to better understand students' ongoing needs
Seattle
Washington
2
$5,000
TEAM Riverside School District
to provide educational access via hotspots, Chromebooks
Chattaroy
Washington
2
$5,000
The Bail Project
to provide support for recently incarcerated to access and/or keep housing, and other basic needs
Spokane
Washington
2
$7,500
The Hispanic Business professional Association (HBPA)
to provide support for individuals and families in need as a result of COVID-19 impacts
Spokane
Washington
2
$10,000
The ZONE Project at Northeast Community Center
to support peer support groups to meet and address mental health and social wellbeing of families in Hillyard area
Spokane
Washington
2
$3,000
Treehouse
to provide basic needs for youth in foster care.
Seattle
Washington
2
$10,000
Washington State University Foundation
to support Crosetto Mobile Health Care Unit efforts to provide diagnostic and antibody testing for underserved people in Spokane-E.WA
Pullman
Washington
2
$5,000
West Central Community Center
to provide Plexiglass, masks and other PPE for community safety
Spokane
Washington
2
$2,500
Women's Healing and Empowerment Network
to provide support for food and emergency shelter assistance for victims of domestic violence and sexual abuse
Spokane
Washington
3
$575
Adams County Libraries
to provide PPE for Adams County libraries
Adams County
Washington
3
$3,000
Agape Food Bank Ministries
to support Hispanic communities throughout Eastern Washington by providing food distribution services
Othello
Washington
3
$6,000
Davenport School District
to support remote learning efforts in the Davenport School District
Davenport
Washington
3
$2,000
East Adams Library District
to support economic recovery, and wireless and remote resources to businesses and community members of Ritzville and surrounding areas
Ritzville
Washington
3
$1,000
Feed Sprague
to improve facilities to provide food delivery services to members of the Sprague community
Sprague
Washington
3
$2,000
Golden Rule Childcare Center
to ensure childcare center remains open to serve families of farmers, hospital workers and others in need throughout Wilbur community
Wilbur
Washington
3
$2,000
Harrington School District
to support remote learning environment in the Harrington School District
Harrington
Washington
3
$2,500
Lind School District
to provide additional meals during the summer months because of COVID related challenges to members of Lind community.
Lind
Washington
3
$2,000
Odessa Food Bank
to provide food distribution to members of the Odessa community.
Odessa
Washington
3
$1,000
Ralston Grange #943
to provide food, safety and wellbeing to residents of the Ritzville community.
Lind
Washington
3
$6,000
Reardan-Edwall School District
to support remote learning environment in the Reardon-Edwall School District
Reardan
Washington
3
$3,000
Ritzville Downtown Development Association
to provide economic recovery and support, and assistance with PPE for the Ritz Theatre
Ritzville
Washington
3
$2,500
Ritzville School District
to provide additional meals during the summer months because of COVID-related challenges to members of the Ritzville community
Ritzville
Washington
3
$5,000
Town of Wilbur
to provide economic recovery and support to businesses and residents of Wilbur community
Wilbur
Washington
3
$1,000
We C.A.R.E.
to provide food distribution to members of the Reardon community
Reardan
Washington
3
$1,000
Wilbur Community Church Food Pantry
to assist with food distribution throughout Wilbur community
Wilbur
Washington
4
$10,000
Community Action Center
to provide emergency housing assistance for eviction prevention (Housing Solutions program)
Pullman
Washington
4
$20,000
Economic Development
to provide small business support for Whitman and Latah Counties
Washington
4
$3,450
Public Libraries in Eastern Washington
to provide Whitman Library PPE
Whitman County
Washington
4
$2,500
Pullman Christian Childcare Center
to provide staff support and PPE to provide childcare for essential workers
Pullman
Washington
4
$1,000
Pullman Community Council on Aging
to support Meals on Wheels and increased food costs at Senior Living Facility (Bishopp Place)
Pullman
Washington
4
$4,800
The Council on Aging & Human Services
to provide Rosauers gift cards to 12 small food pantries to fill gaps in supplies
Colfax
Washington
4
$6,000
University of Idaho
to provide Mental Health First Aid training for extension faculty to train community groups
Moscow
Idaho
4
$4,500
YMCA of the Palouse
to provide program operating costs and scholarships for summer youth program
Pullman
Washington
5
$1,000
Blue Mountain Artisans Guild
to purchase supplies to assemble art kits for a summer take home activity for children in Pomeroy
Pomeroy
Washington
5
$6,000
Garfield County Food Bank
to use for purchasing meat/protein to augment the supply of the Garfield County Food Bank
Pomeroy
Washington
5
$10,000
Pomeroy Assist: Garfield County Humanitarian Service
to provide assistance to families to meet expenses including rent, utilities and other expenses, due to the COVID pandemic
Pomeroy
Washington
5
$20,000
Port of Columbia
to provide microgrants for newly established small businesses in Columbia County not receiving other forms of state aid
DAYTON
Washington
5
$4,000
Walla Walla Senior Center
to provide additional funding for services to assist seniors in Garfield County
Walla Walla
Washington
6
$2,000
Beautiful Downtown Lewiston Revitalization Corporation
to provide public health education and PPE distribution with Idaho Public Health
Lewiston
Idaho
6
$18,000
Economic Development
to provide small business support for Asotin and Nez Perce Counties
Idaho
6
$3,500
First Step 4 Life Recovery Center Ltd
to provide emergency support (food, phone, housing) for persons in recovery
Lewiston
Idaho
6
$1,500
Idaho Legal Aid Services, Inc.
to provide technology support for legal aid conferencing
Lewiston
Idaho
6
$4,000
LC Valley Youth Resource Center Inc
to provide homeless youth support and services/new shelter
Lewiston
Idaho
6
$5,000
Lewis-Clark State College (LC State)
to provide student support and technology for remote learning
Lewiston
Idaho
6
$5,000
Nimiipuu Community Development Fund
to support tribal member small business needs and alignment with Lewiston Chamber
Lapwai
Idaho
6
$3,000
Tri-State Memorial Hospital
to provide technology support for dialysis and behavioral health patients
Clarkston
Washington
6
$2,000
University of Idaho
to provide Mental Health First Aid training for extension faculty to train community groups
Moscow
Idaho
6
$2,000
Valley Community Center
to provide general COVID-19 community resources
Clarkston
Washington
7
$5,000
City of Grangeville
to provide season passes, swim lessons and alternative swim programming for local and regional youth and families during summer 2020
Grangeville
Idaho
7
$3,500
City of Weippe
to provide electrical upgrade at the senior center to allow it to remain open and serve meals to local seniors
Weippe
Idaho
7
$3,000
Clearwater County Ambulance
to provide medical supplies
Orofino
Idaho
7
$4,500
Economic Development
to provide small business support for Clearwater, Lewis and Idaho Counties
Idaho
7
$3,000
Grangeville Farmers Market
to provide portable wash station rental for the five-month summer 2020 season
Grangeville
Idaho
7
$3,500
Grangeville Senior Center
to provide support for basic bills (rent, water/sewer, electricity, etc.) to enable the center to continue serving local seniors
Grangeville
Idaho
7
$1,500
Idaho Foodbank Warehouse, Inc, DBA: The Idaho Foodbank
to provide food and food boxes for all people in need in Lewis, Idaho and Clearwater Counties
Lewiston
Idaho
7
$5,000
Lakeside Assisted Living
to provide PPE, increased Wi-Fi capabilities and portable TV carts for residents, and increased staff training for resident safety and evolving CDC guidelines
Winchester
Idaho
7
$3,500
Pierce Community Center
to repair boiler room that heats the center and enable it to open summer '20 for youth and community members to enjoy for games, activities and private functions
Pierce
Idaho
7
$2,000
Prairie Mountain Nutrition Inc.
to provide food for local seniors and people with disabilities
Cottonwood
Idaho
7
$2,000
University of Idaho
to provide Mental Health First Aid training for extension faculty to train community groups
Moscow
Idaho
7
$4,000
Upriver Youth Leadership Council
to provide youth group counseling summer session, no touch thermometers, and family meals to go
Kamiah
Idaho
8
$2,000
Coeur d'Alene Tribe
to provide general support for needs related to COVID-19 for tribal members
Plummer
Idaho
8
$2,000
Economic Development
to provide small business support for Benewah and Shoshone County
Idaho
8
$1,000
Greater St. Joe Development Foundation, Inc Timber Plus
to support general expenses for the organization to fulfill its mission in response to COVID-19
St. Maries
Idaho
8
$5,500
Lutherhaven Ministries, Inc.
to provide lunch and snacks for the Osburn and Pinehurst summer day camps serving 100+ 3rd – 6th graders over a three-week period
Coeur d'Alene
Idaho
8
$1,500
Saint Maries Chamber of Commerce Incorporated
to support Music in the Park Summer '20 programming in support of economic recovery, local business and community socialization
St. Maries
Idaho
8
$1,500
Shoshone Medical Center Foundation
to provide backpacks with school supplies and clothing vouchers for school-aged kids
Kellogg
Idaho
8
$500
Silver Valley Christian Academy
to provide PPE for summer and fall programming in support of student academic recovery
Kellogg
Idaho
8
$1,000
Silver Valley Economic Development Corporation
to support general expenses for the organization to fulfill its mission in response to COVID-19
Wallace
Idaho
8
$5,500
St Maries Youth Roots Inc
to provide four themed week-long camps offered to all kids in Benewah County ages 5+, at the same rate, regardless of membership
St Maries
Idaho
8
$1,000
St. Maries Senior Meal Site
to provide two food warmers for meal preparation and delivery for local seniors
St. Maries
Idaho
8
$1,500
Team Wallace
to provide breakfast for youth through Mom's Vintage Eatery for the summer months
Silverton
Idaho
8
$1,500
Wallace District Arts Council
to support coordination with the Silver Valley Economic Development Council on marketing, advertising and promotion of blues festival circuit for the summer 2020
Osburn
Idaho
9
$6,000
Boys & Girls Club of Kootenai County
to provide scholarships for kids in summer programming, sanitizer stations, hand sanitizer, gloves, masks and two outdoor sinks
Coeur d'Alene
Idaho
9
$500
City of Harrison
to provide PPE for city employees
Harrison
Idaho
9
$3,000
Coeur d'Alene Tribe
to provide general support for needs related to COVID-19 for tribal members
Plummer
Idaho
9
$2,000
Economic Development
to provide small business support for Kootenai County
Idaho
9
$4,000
Gizmo-Cda
to support general expenses for the organization to fulfill its mission in response to COVID-19
Coeur d'Alene
Idaho
9
$500
Harrison Chamber of Commerce
to support Music in the Park Summer '20 programming in support oft economic recovery, local business and community socialization
Harrison
Idaho
9
$5,000
Heritage Health
to provide funding for VOIP Licenses and Doxy.me platform expenses needed to provide telehealth for all patients in the entire service region of Kootenai, Shoshone and Benewah Counties
Hayden
Idaho
9
$5,000
Orchard Ridge Senior Living
to provide general support to ensure resident safety and provide services for Orchard Ridge's vulnerable senior population
Coeur d'Alene
Idaho
9
$8,000
Quest Summer Day Camp
to provide scholarships for participants and program expenses for Quest Summer Day Camp offered to 200 1st – 8th grade over the 10 weeks of summer 2020
COEUR D' ALENE
Idaho
9
$8,000
The Salvation Army Kroc Center
to provide scholarships for participants and program expenses related to week-long camps offered for over 800 kids ages 4 – 14 through summer 2020
COEUR D ALENE
Idaho
10
$2,000
Angels Over Sandpoint
to provide rent, utilities, food and other assistance through a referral process (Angel referrals) for community members in greatest need
Sandpoint
Idaho
10
$1,000
Blanchard Area Seniors Incorporated
to provide food and basic needs for vulnerable seniors
Blanchard
Idaho
10
$4,000
Bonner Homeless Transitions
to support general expenses related to food security; to purchase grocery cards for clients; and for non-perishable food for pantry to utilize when consulting with applicants who are homeless
Sandpoint
Idaho
10
$4,000
Boundary County Victim Services
to provide mental health counseling by licensed therapists for victims of violent crime who are in crisis
Bonners Ferry
Idaho
10
$4,000
Community Coalition for Families
to provide housing assistance due to job loss, illness, behavioral health issues, or other unexpected issues, and to pay for utilities, transportation, behavioral health, technology support and childcare
Bonners Ferry
Idaho
10
$4,000
IdaHope Families
to support the financial needs of families affected by unemployment, domestic violence, substance abuse, homelessness, mental illness, and medical crises
Sandpoint
Idaho
10
$4,000
Kootenai Tribe of Idaho
to provide housing assistance, food security, mental health services, or other basic expenses to support tribal members hardest hit by the outbreak
Bonners Ferry
Idaho
10
$5,000
NAMI Far North
to pay mental health clinicians who staff the North Idaho Crisis Services (NICS) phone service, and to increase advertising regarding mental health services available in the community
Sandpoint
Idaho
10
$4,000
Panhandle Alliance for Education
to support coordinated educator professional development (partnership with Lake Pend Oreille SD) to support student
Sandpoint
Idaho
10
$2,000
Priest River Ministries, Inc
to pay monthly motel rooms, or rent for those victims fortunate enough to be able to stay in their own homes. Supply food, hygiene and household supplies to clients, and provide advocacy and safety measures
Priest River
Idaho
10
$4,000
Priest RiverHappy Agers
to re-open soup kitchen to make food and deliver to elderly population and low income residents in the community; and to purchase bulk cleaning supplies for sanitizing
Priest River
Idaho
10
$1,000
Storybook Cottage
to purchase food, cleaning supplies, furniture and PPE to care for children and families, and keep staff safe and healthy
Oldtown
Idaho
TOTAL:
$746,012