Despite the challenges 2020 has presented for everyone, Innovia Foundation's call to adopt the families in Malden and Pine City for Christmas was a huge success. In just three weeks, more than 200 generous community members said yes to making someone's spirit a little brighter, and thanks to that generosity, we had the honor of driving down to Malden on Friday, December 18th with almost a dozen volunteers to deliver gifts to families throughout the Pine Creek region.
It has been an exceptional year of change for our entire country and this is no more evident than in the Pine Creek region where 97 homes burned to the ground. The resilience in these families to come together and find a way to rise out of those ashes has been an inspiration to observe. Because of this resilience and desire to rebuild their community, Innovia Foundation wanted to help raise the funds to bring the families of Malden and Pine City a holiday season filled with hope.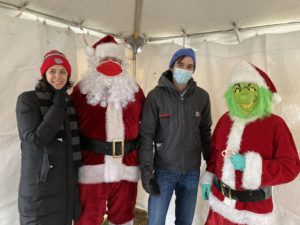 PINE CREEK CHRISTMAS AT A GLANCE:
Santa and the Grinch
CEO Shelly O'Quinn and her son Ryland in Malden to hand out gifts.
44 families sponsored with Christmas gifts
60 families received baskets of goodies
573 beautifully wrapped gifts
94 grocery gift cards totaling $6,600 generously supported in part by United Steel Workers 338 and Rosauers
50 gas cards donated by Washington Trust Bank
60 towers of chocolate, popcorn, cookies and treats
148 candy canes
98 bags of popcorn
280 pounds of dog food
120 pounds of cat food
28 gift baskets with a child's book and stuffed animal from a retired librarian
One Grinch (He turned out to be really nice!)
One Santa Claus (He was very jolly!)
Over 200 generous community members and volunteers supported Pine Creek Christmas.
We invite you to join us in making a year-end gift to the Pine Creek Fund toward the first four homes in Malden which will be rebuilt starting in January.
We also want to share a story with you from Malden that touched our hearts and we found to be so inspiring. Click here to read the story.
Thank you to all the generous sponsors again—from the retired teacher who gave so many books and stuffed animals to the His Song members who donated a generous $2,500. We could not have done any of this without you.
Happy Holidays from all of us at Innovia Foundation!