Imagine having left your country, fleeing from war, violence or other unimaginable difficulties, and finding yourself in a strange country with an unfamiliar language and no connections in your new community. "Just imagine," Faith Hayflich invites us. "What would it be like if some disaster comes into your life, and you have nobody to turn to?"
Growing up in the small town of Huntington, West Virginia, Faith Hayflich moved to Spokane in 2000 to escape the bustling environment of Silicon Valley where she taught ESL in corporate settings for many years. Growing up, she was inspired by the generosity of her father who gave his time and treasure to his family and community: "I learned a lot about generosity from him."
Faith has dedicated herself to ensuring every person thrives in Spokane, charmed by the proximity of both urban and rural beauty and the kindness and generosity of Spokane residents. Devoting her time as a volunteer and giving to nonprofit organizations in our community, she has supported the vital work of the Spokane Area Jewish Family Services, Congregation Emanu-El, Yasodhara Ashram and Yasodhara Yoga Spokane, the Spokane Symphony, Feast World Kitchen and Refugee Connections through her generosity. 
"Serving refugees is the cause that catches my heart," Faith Hayflich shares.
To support the launch of the Mahima Project at Refugee Connections Spokane, Faith launched the Spokane Community Refugee Fund, a donor-advised fund at Innovia Foundation that seeks to help refugees make a bridge to their lives in the United States. Acknowledging the distinct challenges that refugee women face during such transitions, this fund currently supports services focused on women's empowerment, building relationships and community connections, and providing a space for refugee women to be seen and heard. Faith's generosity permits flexible and sustainable funding to support the blooming vision of Pingala Dhital.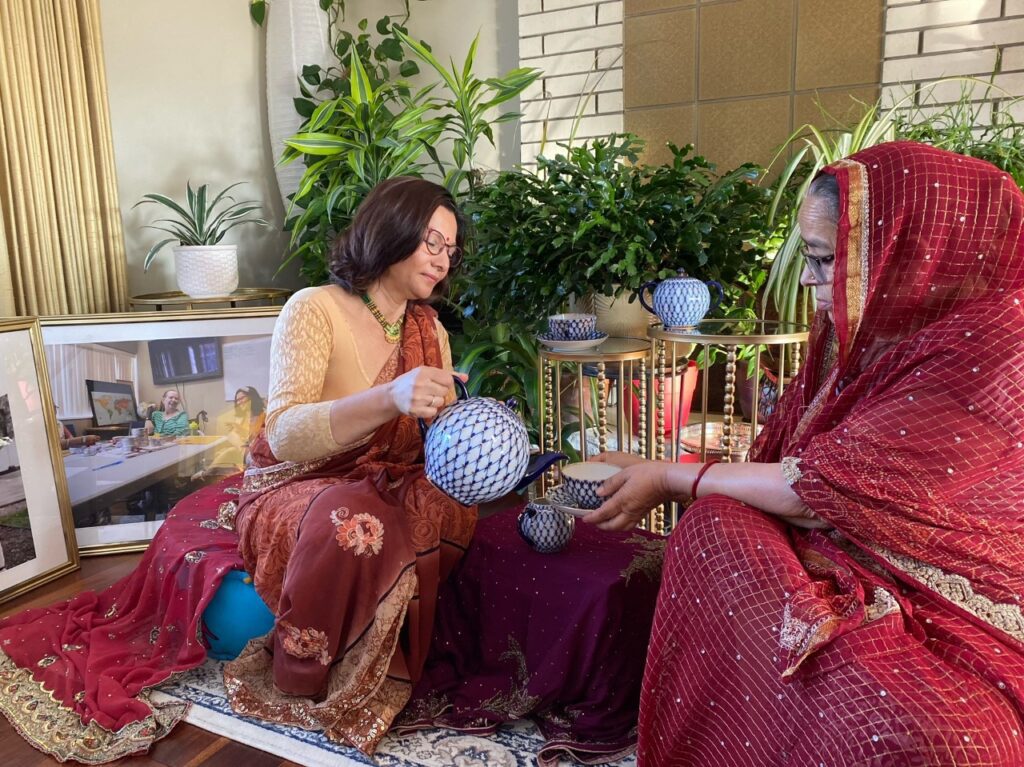 Pingala Dhital, leader of the Mahima Project and Bhutanese refugee herself, shared that Faith's support has already helped her to connect with many isolated refugee women. Pingala envisioned the construction of the Mahima Center, a room for these isolated women to connect with volunteers and be uplifted during such challenging transitions.
Enduring eighteen tumultuous years in a refugee camp in Nepal, Pingala and her family were transferred to the United States in 2008 due to risk to their lives. Through her work serving refugees throughout our community and her own lived experience, Pingala strives to protect refugee women and allow them space to share the pain that they often carry on their own: "We can listen to them, open our door, whenever they need to come."
The Mahima Project officially opened in September 2021 and is hosted at Refugee Connections.
Both Faith and Pingala invite the community to get involved: "We can come together to help women achieve their dreams, to be there to listen to what she has to share. Without the community, we are nothing. The biggest thing is building relationships."
With the sustainable support and inspiring passion of Faith Hayflich, the Spokane Community Refugee Fund will empower and support refugee women in the Spokane community for generations to come.