It's not a case of build it and they will come. The fact is more people keep coming so a building is needed. Such is the argument for organizers of Spokane Valley Summer Theatre (SVST) and their desire to see a Performing Arts Center built on five acres of land in Spokane Valley's Mirabeau Park neighborhood.
To date, the theater group has secured $13 million in donations and pledges for a facility carrying an initial estimated cost of $36 million. Between $14 million and $26 million is currently being negotiated, and of that, between $8 million to $10 million constitute government funds at the city, county, state, and federal levels, according to Dr. Marnie Rorholm, the Managing Director for the Performing Arts Center.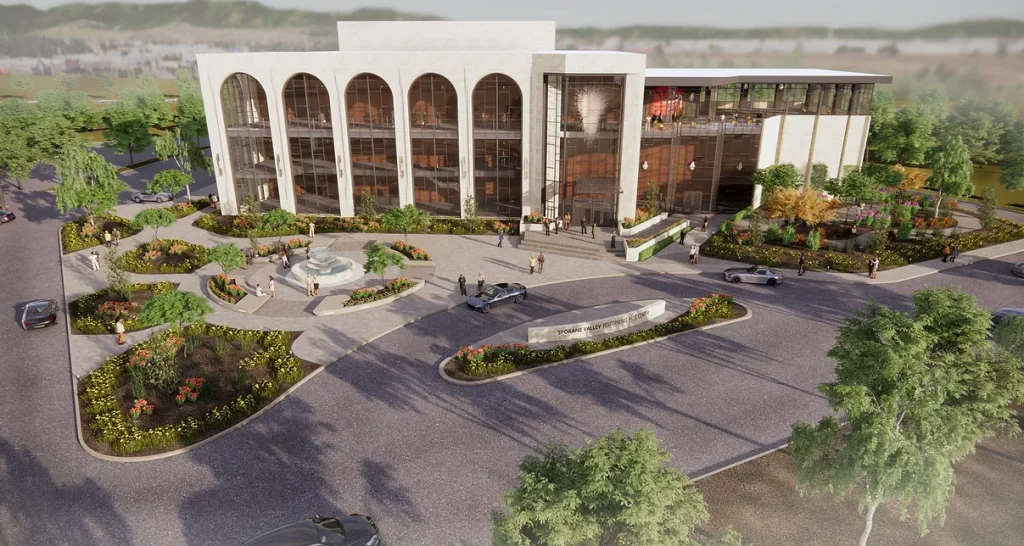 Displaying the Innovia Foundation's commitment to the arts and nonprofits in our community, the foundation is currently managing a pair of endowments that were each set up to ensure the long-term sustainability of the project. The Spokane Valley Conservatory Scholarship Fund and Spokane Valley Performing Center Arts Center Endowment Fund were both seeded with $10,000 donations from community supporters.
Plan organizers have slated June 2024 for the grand opening of the 59,000-square-foot building with the capital fund-raising campaign to run through the end of 2025.
Dr. Rorholm says the construction of the building is beyond justified in our region. Since its first season of performances in 2016, Spokane Valley Summer Theatre has seen its annual operating budget increase from $180,000 to $470,000. She says the demand for community theater is strong and conservatively estimates the new building could generate at least $1.5 million annually.
Performances have been held at Central Valley and University high schools since Spokane Valley Summer Theatre began hosting shows. SVST only has access to the buildings during summer as classes are in session the rest of the year.
Local backing for the project has always been strong.
$36M performing arts center proposed in Valley
"Innovia Foundation recognizes the importance of creating vibrant and accessible cultural and enrichment experiences for all," says Innovia Foundation CEO Shelly O'Quinn.
Adds Gregory S. Deckard, CEO and chairman of State Bank Northwest, "We're proud to be a supporter of SVPAC from the inception of the vision of creating a first-class regional performing arts center in the Spokane Valley. Our goals in this project directly align with the needs and desires of our community."
Friends of the arts can support the Spokane Valley Performing Arts Center in many ways.